Marcolini, Francesco
From Tarotpedia
In 1540 Francesco Marcolini (or Marcolino), a typographer born in Forlì, published in Venice "Le sorti intitolate giardino d'i pensieri" ("The oracle called garden of thoughts"). This book can be considered one of the earliest known documents about cartomancy (divination with cards). A few years before the publication of "Le Sorti", some similar playing-card based fortune-telling books had been printed in Germany (more information on those books is available on trionfi.com http://trionfi.com/0/p/41/).
Il Giardino De' Pensieri
The "Garden of Thoughts" was a very high quality game book, in which a corpus of one hundred images was joint with 2.250 tercets. The images were fifty allegorical woodcut illustrations and fifty woodcut portraits of philosophers.
The author of the tercets was the Venetian poet Lodovico Dolce. Dolce wrote the answers to the questions contained in the book. He followed the combinatorial scheme of his customer and friend Marcolini, creating a never ending game made of variations on a small range of mandatory themes. Those where the subjects on which good and bad fortune has always been perceived: love, fidelity / unfidelity, marriage, sons, friendship, beauty, health/hillness, political success, war/peace. In this game also the words had to follow a pattern, along the convention of the oracular response with its typical ambiguity.
The fine portrait of Marcolini on the verso of the title has been alternatively attributed to Titian and to Giuseppe Porta Salviati. The fifty allegorical woodcuts illustrate various aspects of life, human vices and virtues, as well as symbolic representations of human nature.
The beautiful woodcut title-page is signed by "Joseph Porta Garfagninus," also known as Giuseppe Porta Salviati, a pupil of Francesco Salviati, from whom he took his professional name. The dedication is to the Duke of Ferrara Ercole d'Este. The final leaf bears Marcolini's full page printer's mark "Veritas Filia Temporis" ("Truth is the Daughter of Time").
Vasari about Marcolini
Giorgio Vasari discusses Marcolini and the "Garden of Thoughts" in his Lives of the Most Excellent Painters, Sculptors, and Architects. He praises Marcolini as the excellent designer and possibly cutter of these woodblocks. Other illustrations in Marcolini's books have been attributed to the hand of Marcolini himself due to this reference.
E chi non vede senza maraviglia l'opere di Francesco Marcolini da Forlì? il qual oltre all'altre cose stampò il libro del Giardino de' Pensieri, in legno, ponendo nel principio una sfera d'astrologi, e la sua testa col disegno di Giuseppo Porta da Castelnuovo della Garfagnana; nel qual libro sono figurate varie fantasie: il Fato, l'Invidia, la Calamità, la Timidità, la Laude, e molte altre cose simili, che furono tenute bellissime.
And who can look without marvel to the works of Francesco Marcolini from Forlì?
Among other things, he printed, using wood, the Book of the Garden of Thoughts.
He put in the beginning the sphere  of the astrologers, and his portrait with a
drawing by Giuseppe Porta da Castelnuovo from Garfagnana;
in that book many fantasies are represented: Fate, Envy, Calamity, Shyness, 
Praise,  and many similar things, which were considered beautiful.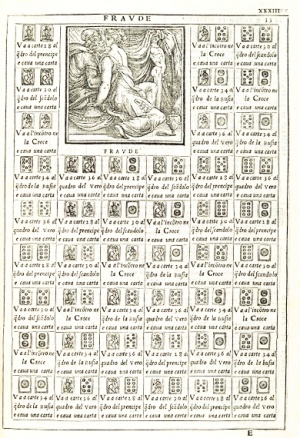 Usage of the Book
At the beginning of the book, after the dedication to Ercole, there are two full pages in which Marcolini advises the reader how to use this book, then two more pages of "tables" which point to different sections of fortune telling for men, for women, and sections which are appropriate for both sexes. The set of fifty questions that the Book can answer is composed of thirteen questions for men, thirteen questions for women and twenty-four for both sexes.
Finding the tercet answering a questions requires to initially draw two cards. The order in which the two cards are drawn and the suits of the cards are not taken into account. The pair of cards is compared to an Allegory of Human Quality or Defect page, associated to the specific questions. See for instance the page about Fraude ("fraud"). The page presents all the 45 possible pairs of cards. For each pair, it gives the indication to draw a single card and go to another page. This new page is an Allegory of Abstract Principle page. For instance, from the Human Defect Fraude it is possible to be redirected to the Abstract Principles Croce (cross), Scandolo (scandal), Bugia (lie), Vero (truth), Prencipe (prince or principle?). From the Human Quality Sapere (knowledge) it is possible to be redirected to the Abstract Principles Cloto, Atropos, Genio (genius), Lachesi, Croce (cross).
Each Abstract Principle page maps a single card to a specific Philosopher section. The Abstract Principle fixes one of the two cards that are needed to read a tercet from the philosopher page. The other card must be drawn, but the Abstract Principle page states if it must be a pip card or a court card.
On the basis of this two cards (the fixed card specified in Abstract Principle and the pip/court card that was drawn) the tercet corresponding to the answer is identified.
To summarize, the process was something like:
Choose a question among the fifty availables.
Go to the Allegory of Human Quality or Defect corresponding to the question.
Draw a pair of cards (A+B)
Go to the Allegory of Abstract Principle that the current Allegory of Human Quality or Defect associates to the pair you have drawn.
Draw a single card (C) and follow the instructions that the Abstract Principle associates to that card.
Go to the Philosopher that the current Allegory of Abstract Principle associates to the card you have just drawn.
Draw a single card card (D, pip or court as specified by Abstract Principle) and take note of the "fixed" card assigned by the Abstract Principle (E)
The answer is the tercet associated to this last pair of cards (D+E) in the Philosopher page.
On the total, five cards are used in the process. The first three are simply drawn from the Trappola deck. Of the last two, one is drawn but must fall in the appropriate pip / court card category, and the other is simply read from the book.
The 50 questions
The book provides answers to 50 questions, divided into the following three sections. For each question, the corresponding Allegory is indicated in squared brackets.
Questions to be asked by men

1.Will the destiny of the man will be good or bad? [Fato - Fate]
2.Is the lover loved by his mistress? [Fama / Fame]
3.Is it better to marry a beautiful woman or an ugly one? [Beneficio - Gain]
4.Will the desire of the man be fulfilled? [Tempo - Time]
5.In which will the man be more lucky? [Fortuna - Fortune]
6.Will the man have to suffer for his beloved? [Dolore - Pain]
7.Is the man appreciated by the other people? [Virtu' - Virtue]
8.How many wives will the man have? [Punizione - Punishment]
9.Will he that goes to war gain victory? [Vittoria - Victory]
10.Will a strange wife become humble? [Pertinacia - Obstinacy]
11.Is it good to change mistress? [Peccato - Sin]
12.Is it good to take a wife? [Matrimonio - Marriage]
13.Which is the best mistress: the widow, the married woman or the unmarried woman? [Timore - Fear]

Questions to be asked by women

14.Is the woman appreciated by the man she adores? [Vanita' - Vanity]
15.Will the destiny of the woman will be good or bad? [Destino - Destiny]
16.Will the woman will give birth to a boy or a girl? [Natura - Nature]
17.In which will the woman be more lucky? [Honore - Honour]
18.How many husbands will the woman have? [Penitenza - Penitence]
19.Will the woman have children? [Sterilita' - Sterility]
20.Will the woman suffer for her lover? [Dipserazione - Desperation]
21.Will the desire of the woman be fulfilled? [Insidia - Danger]
22.Will the bad husband become good? [Sorte - Chance]
23.Is the woman loved by everyone? [Disgrazia - Disgrace]
24.Is it good for the woman to change lover? [Odio - Hate]
25.Is it good to get married? [Servitu' - Slavery]
26.Will the husband be faithful? [Occasione - Occasion]

Questions that can be asked both by men and women

27.Is a certain courtesan infected with the French disease? [Difetto - Defect]
28.Is it good to take vengeance of an offense? [Virilita' - Virility]
29.Will the world find peace? [Parche - Moirae]
30.Will art or trade produce gain? [Industria - Industry]
31.Will some trouble bring happiness in the end? [Ricchezza - Richness]
32.Is the rule of a Lord appreciated by the people? [Verita' - Truth]
33.Is it good to serve Lords and priests? [Infingardo - Idler]
34.Will a promise be kept? [Fraude - Fraud]
35.Is the person that traveled far alive or dead? [Sapere - Knowledge]
36.Will the exile return? [Esilio - Exile]
37.Is it better the wife or the husband? [Poverta' - Poverty]
38.Who loves with more passion, the man or the woman? [Nobilta' - Nobility]
39.Will a dream come true? [Ignorantia - Ignorance]
40.Is it good to start a certain enterprise? [Otio - Idelness]
41.Will the person that went away be back soon? [Desiderio - Desire]
42.Will the awaited new be good or bad? [Malinconia - Melancholy]
43.Does the appearance of the person give a good impression? [Menzogna - Lie] 
44.Must one trust what people say? [Discordia - Conflict]
45.Will two lovers make peace? [Pace - Peace]
46.Which will be the end of a very deep love? [Caso - Chance]
47.Will changing place bring better luck? [Consiglio - Counsel]
48.Will the person be the winner of a dispute? [Corruttella - Corruption]
49.Will someone get free of a certain vice? [Furto - Theft]
50.What will be the reward for faithfulness in serving? [Calamita' - Calamity]

Organization of the Tercets
The tercets are divided in 50 sections, each containing 45 tercets. 45 is the number of different combinations of two cards drawn from a Trappola deck (made of four suits each with nine cards). In this case, the order in which the cards are drawn and the suit are ignored: drawing Two of Batons and Three of Coins is the same as drawing Three of Swords and Two of Cups.
Each section is dedicated to a different philosopher and includes a woodcut portrait of the philosopher. The following is the complete list of the Philosophers pages:
[I] Thalete philosopho 
[II] Solone philosopho 
[III] Chilone philosopho 
[IV] Pitaco philosopho 
[V] Biante philosopho 
[VI] Periandro philosopho 
[VII] Epimenide philosopho 
[VIII] Anacarsi philosopho  
[IX] Phericide philosopho 
[X] Socrate philosopho  
[XI] Aristippo philosopho 
[XII] Theodoro philosopho 
[XIII] Stilpon philosopho 
[XIV] Menedemo philosopho
[XV] Platone philosopho 
[XVI] Speusippo philosopho 
[XVII] Crisippo philosopho 
[XVIII] Eraclito philosopho 
[XIX] Senocrate philosopho
[XX] Arcesilao philosopho 
[XXI] Aristotele philosopho 
[XXII] Demetrio philosopho 
[XXIII] Eraclide philosopho
[XXIV] Antistene philosopho 
[XXV] Crate philosopho 


[XXVI] Zenone philosopho 
[XXVII] Cleante philosopho 
[XXVIII] Pitagora philosopho 
[XXIX] Empedocle philosopho
[XXX] Eudoxo philosopho
[XXXI] Demcrito philosopho 
[XXXII] Protagora philosopho 
[XXXIII] Anasarco philosopho
[XXXIV] Euriloco philosopho 
[XXXV] Pirone philosopho
[XXXVI] Epicuro philosopho 
[XXXVII] Mison philosopho 
[XXXVIII] Anaximandro philosopho 
[XXXIX] Anaxagora philosopho 
[XL] Xenopho,nte philosopho
[XLI] Eschino philosopho 
[XLII] Simon philosopho 
[XLIII] Polomone philosopho 
[XLIV] Cebete philosopho
[XLV] Cleobulo philosopho 
[XLVI] Crono philosopho 
[XLVII] Euclide philosopho 
[XLVIII] Clitomaco philosopho 
[XLIX] Diogene philosopho 
[L] Momino philosopho

Tercets from a Philosopher page (Socrates)
The following twenty-four tercets are on the first page of the oracular section dedicated to Socrates. It is not clear what is the total number of tercets in a Philosopher's section. In this example, the order of the cards in a pair is relevant, because we have both Page and Knight and Knight and Page.
Seven and Knight

Verrà per far ciascun lieto e contento;

Che longo tempo fu seguito in noia;

La pace; ma verrà con passo lento.

Peace will arrive, making everybody happy;

After you have spent a long time in troubles;

But peace will come with slow steps.

Ten and Seven

Col tempo il gran si perde, e si raccoglie;

Il tempo rende il lume e lo nasconde:

Ei n'apporta gli affanni, ei ce gli toglie.

With time you lose your crop and you collect it;

Time brings back the light and takes it away:

It brings us troubles, and takes trouble away.

Two and Knight

Fratel il danno e l'util de le genti

Nel secreto voler di Dio son chiusi:

Pur tu farai guadagno di formenti.

Brother, the gain and loss of people

Are enclosed in the secret will of God:

So your prayers will be a profit for you.

Ace and Knight

Più non temer: ma va sicuro e altero:

Fanne vendetta; e no cangiar preposto;

Se non sarai trattato da leggero.

Do not fear any more: you can go safe;

Take your revenge without changing your mind;

Or else you will be considered untrustworthy.

Nine and Seven

Cangia pur quando vuoi pensiero e voglia:

Che mai non verrà a fine il tuo desio:

Anzi ti fia cagion d'affanno e doglia.

You can change your mind whenever you want:

Because you will not get what you desire now:

It will only procure you pain and trouble

Knight and King

Per consiglio di me sarai contento

Non tentar di saper quel, che sapendo

Ti porrà destro a venir d'aspro tormento.

My answer will make you happy;

Do not try to know those things that known

Will torture you so much.

Page and King

In far denari havrai venture strane;

Ne mai ti troverai mezzo quattrino;

Se non saprai fuggir da le putane.

In making money you will have strange adventures;

And you will be left without a coin,

If you will not learn to avoid whores.

Eight and Seven

Non pigliar donna c'habbia insieme unita

La bruttezza e la stizza se non cerchi

D'haver l'Inferno e'l Purgatorio in vita.

Do not take a woman that is both

Ugly and angry unless you want

Make your life an Hell and a Purgatory.

King and Page

So ben, ch'el dimandar nulla ti costa.

Dimanda dunque cinque volte e sei,

Che guadagno farai ti do risposta.

I know well that asking costs nothing.

Go ahead and ask five or six times.

I will always answer that you will gain.

Ten and Page

Egli è più certo ch'esso le fa guerra,

Che non è certo che volin gli uccelli;

E che corranno l'acque e stia la terra.

It is surer that he is at war with her,

Than that birds fly in the sky,

That water runs and the earth is still.

Ten and Two

Non sempre il giorno oscura nebbia adombra;

Non sempre copre le campagne il ghiaccio:

Nè sempre un grave duol l'anima ingombra.

The day is not always darkened by fog:

The land is not always covered by ice:

Your soul will not always by full of pain.

Nine and Page

Havrai sempre la sorte amica e buona;

Se ti saprai guardar da quel che nuoce,

Et il gusto, e le mani, e la persona.

You will always have good fortune,

If you will learn how to avoid the things that hurt,

Your taste, your hands, your body.

Eight and Page

O miserella, tu sei giunta a tale,

Che quel, ch'adori, fa di te men stima,

Che non farebbe altrui d'un orinale.

Poor girl, you have reached a situation,

In which the man you adore considers you

less worthy than a chamber pot.

Nine and Two

Pur che non tenga a cintola le mani,

Havrai ciò che desideri altramente

Saran del tutto i tuoi pensieri vani.

If you will not keep your hands at your belt,

You will get what you want. Else

All your thoughts will be completely vain.

Seven and Page

Il buon viver pacifico e giocondo

E' perduto figliolo e temi ognihora

Veder afflitto e pien di sangue il mondo.

Your peaceful and playful life

Is over my son; now you must fear

To see the world full of blood.

Two and Page

Io son già stanco a dar tante risposte:

Tu pensi d'acquisire i mari e i monti:

Ma ti bisogna far conto con l'hoste.

I am tired to give all these answers:

You think you will conquer the sea and the mountains,

But you count your chickens before they are hatched

Eight and Two

Mogliera non piglair brutta e sdegnosa:

Ma se la pigli piacevole e bella,

Io temo poi di qualche strana cosa.

Do not take an ugly and angry wife,

But even if you take one pleasant and nice,

I am afraid something strange will happen.

Ace and Page

Non è cosa più sana al parer mio,

Che far lasciando la vendetta al Boia

E viver come vuol Domeneddio.

In my opinion nothing is wiser

Than leaving vengeance to the hangman,

And live as God wants you to live.

Knight and Page

Se ti mostra talhor turbato il volto,

Godi pur tu e che questo è un certo segno,

Che la tua cara donna t'ami molto.

If sometimes her face looks worried

Be happy because it is a clear sign,

That your woman really loves you.

Ten and Ace

Un mal non manda il Ciel senza cagione:

Però farai del tuo peccato amenda:

Et havrai lieti i giorni e l'hore buone.

Heaven does not send bad things without a reason,

So you will pay for you sin,

And then you will live happy.

Page and Knight

Il fato, che nel far ha poco sale,

Ritoglie spesso, e donna ad occhi chiusi:

Però potresti un giorno uscir di male.

Fate acts without reason,

If often takes away what it blindly gives;

But sooner or later your troubles might finish.

Nine and Ace

Nulla non ci sarà credi al dir mio:

Et questo avien che non t'attieni al mezzo,

Ma voli troppo in alto col desio.

There will be nothing for you, believe me:

Because you do not follow the middle way,

And you fly too high with your desire.

Eight and Ace

Se tu la pigli e sia bella e superba;

Sotto uno caro in quattro dì ti veggio

Andare con le capre a pascer l'erba.

If you take a woman beautiful and arrogant,

I see you in four days

Herding goats to the pasture.

Nine and Knight

Tu sei per far guadagno figliol mio

Si perch'hai buon discorso e buono ingegno:

E sia perchè vorrà Domeneddio.

Your are going to gain much my son,

Because you speak well and are intelligent,

And because such is the will of God.